I help institutions and individuals organize, understand, and share observations and ideas about places; to understand how places work in their context; so that people can more effectively collaborate, make more informed decisions, and appreciate the quality of places as they are, as they were, as they change or may be changed. I have trademarked a short phrase that captures this mission: cultivating spatial intelligence. Lets take observations and ideas from multiple points of view and make them stick together in useful ways!
For more information email paulbcote@gmail.com
New in 2021
Check out the recently published CitySchema Repository/Catalog. Its a very simple means of publishing a detailed city model that interfaces easily between GIS, 3D Modeling Tools, Open-Source Tool-chains, and Archival Asset Management tools. Visit on Git-Hub, Explore as a web-site or read the CitySchema project overview.
Work on the Boston-Area City-Model Collaborative, first envisioned in 2002, is advancing. Check out the overview slideshow (presented to the ArcGIS-Urban User Group, April 5)
2020 Highlights
2019 Highlights:
pbcGIS was invited to make a presentation to the Virtual Workshops on City Data Models sponsored by ISO/IEC JTC1 WG 11 on Smart Cities and the University of Toronto School of Cities.
Our collaboration with Cambridge Historical Commission is now named C-DASH (Cambridge Digital Architectural Survey and History) is creating a geo-referenced web searchable archive for 16,000 folders of historical information about each and every Cambridge building.
2018 Highlights: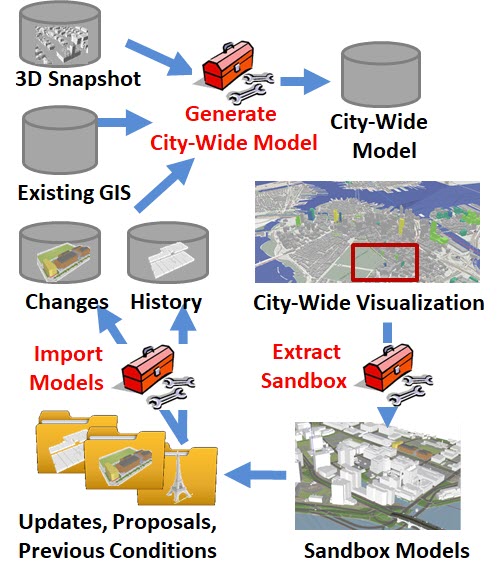 Data Lifecycle in pbcGIS City Model Architecture
Boston Planning and Development Agency launched its city-wide 3d model. pbcGIS developed this model from various sources, and developed turn-key workflows for managing a collection of models for every building in the city, including historic buildings that don't exist any more through buildings that have been proposed, approved, rejected and undr-construction. pbcGIS also developed the tools for tiling the cyty-wide model into 1-kilometer square sketchup models that include detailed terrain, groundp-plan and buildings. This is very similar to the set-up we made for Cambridge, last year. Tomorrow the world!
The big idea behind these city-modeling projects is to provide a smoother interface between the world of urban design and development with the data-management culture of municipal GIS. When this succeeds, designers and planners in quickly-developing areas like Boston and Cambridge will have a common-operating-picture of the near-future city that includes projects that are in the design-review pipeline.
2017 Highlights:
2016 Highlights:
2015 Highlights:
Highlights from 2014
Four City Engine Workshops conducted for staff from Cambridge, MIT, Harvard and Boston. City Engine Tutorials with sample datasets are now free and open to the world wide web!
Architecture for a Living City-Wide 3D Model Slides presented at the Northeast ArcInfo User Conference with Jeff Amero, GIS Director of the City of Cambridge.
Detailed Flood Simulation. Uses a very detailed Cambridge/Boston terrain model and logic that considers the delay of inundation of areas that sit behind higher elevation terrain features. Download this PDF and view it in Actobat to enjoy the animation.
Selected Publications and Presentations on City Modeling and Information Architecture